---
Youth Athletics-english
YOUTH ATHLETICS and IAAF WORLD ATHLETICS DAY 2011

SUNDAY 8.5.2011
Kolín - Czech republic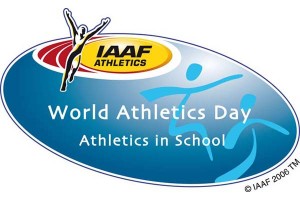 DISCIPLINES
boys 1996-1997 - 1998

girls 1996-1997 - 1998

boys 1994-1995
girls 1994-1995
boys 1992-1993
girls 1992-1993
100 m hurdles

100 m hurdles
110 m hurdles
100 m hurdles
110 m hurdles
100 m hurdles
60 m

60 m
100 m
100 m
100 m
100 m
300 m

300 m
200 m
400 m
200 m
400 m
800 m

800 m
400 m
1500 m
400 m
800 m
long jump

long jump
1500 m
long jump
800 m
long jump
high jump

high jump
long jump


long jump
high jump
javelin 600 g

javelin 600 g
high jump
javelin 600 g
high jump
javelin 600 g
shot put 4 kg



javelin 700 g
shot put 3 kg
javelin 800 g
shot put 4 kg
4 x 60 m (2 boys + 2 girls)

shot put 5 kg
4 x 100 m
shot put 6 kg
4 x 100 m

4 x 100 m
4 x 100 m


PROPOSITION

Organizer: T. J. Sokol Kolin - Athletics
Date: Sunday, the 8th May 2011
Venue: Athletic Stadium in Borkách M. Tucek, ul Brankovická 979, 280 02 Kolín 5, (GPS 50 ° 2'8 .78 "N, 15 ° 11'32 .39" E )

Director: Mgr. Antonín Morávek
Secretary: Lenka Šedinová
Chief Judge: Ing. Milan Kantor
Technical Director: Miroslav Kral
Race office: Šlezová Tereza, Mgr. Vlasta Šlezová, Ondřej Kunc
Ceremony: Zdeněk Hejduk, Jana Minarčíková
Meals: Martin Radikovský

Categories and disciplines:

Boys (1996-1997): 100 m hurdles, 60 m, 300m, 800m, long jump, high jump, javelin 600 g, shot put 4 kg, 4 x 60 m (2 boys +2 girls)
Girls (1996-1997) : 100 m hurdles, 60 m, 300m, 800m, long jump, high jump, javelin 600 g, 4 x 60 m (2 boys +2 girls)
Boys (1994-1995): 110 m hurdles, 100 m, 200 m, 400 m, 1500 m, long jump, high jump, shot put 5 kg, Javelin 700 g, 4 x 100 m
Girls (1994-1995): 100 m hurdles, 100 m, 400 m, 1500 m, long jump, shot put 3 kg, Javelin 600 g, 4 x 100 m
Boys (1992-1993): 110 m hurdles, 100 m, 200 m, 400 m, 800 m, long jump, high jump,shot put 6 kg, Javelin 800 g, 4 x100 m
Girls (1992-1993). 100 m hurdles, 100 m, 400 m, 800 m, long jump, high jump, shot put 4 kg, Javelin 600 g, 4 x 100 m

Entry fee: 3 EUR per start in one discipline. Relay races are free from fee.
Entry fee must be paid on the day in the race.

Evaluation: In each event will be announced the top 5 competitors, who will receive medals, diplomas and prizes. Relays: top 3 teams in each category.
The announcement will be made in blocks according to the completed fields. Announcement athletes gather before the ceremony in the Call room where the ceremony will be introduced.

Deadline for submissions is April 24, 2011 in the 20:00 on e-mail address antonio.moravek @ seznam.cz

Entries for the relay is made on the spot in the race office till 12.00

Starts out of competition are not allowed.

Registration: Competitors (or leading expeditions) are presented in the racing office the day of the race from 8.15 to 9.15 pm
Any changes will be addressed only to 9.15 pm
Competitors (or expedition leader), who will come up later in the race, they present upon arrival.

Transportation: GPS 50 ° 2'8 .78 "N, 15 ° 11'32 .39" E
Train: Kolín lies on the main route Prague - Pardubice - Cs. Trebova - Brno / Olomouc

Technical provisions:
In runs on 60 m and 100 m advance to the final 8 competitors under the first best time in the heats.
Runs at 100 m hurdles, 110 m hurdles, 200m, 300m, 400 m, 1500 m 800 m are final. The final ranking will be determined by the best time.
Base height (high jump): Boys (96,97) 130 cm, Boys (94,95) 145 cm, Boys (92,93) 155 cm, Girls (96,97) 120 cm, Girls (92,93,94,95) 135 cm.

In technical disciplines (except high jump), competitors have 3 attempts and the first performance-best eight (8) qualify for the finals, where they have 3 more attempts.
Race numbers will have all competitors at the front. In the high jump athletes can choose which number to be fixed.
Presentation by Chief Judge disciplines performed directly in the sector is always 15 minutes before the scheduled start of the contest.
Spikes are allowed up to 6 mm.
Entry coaches and others in the stadium area is strictly prohibited.

To warm up racers use 300 m stadium.
Other provisions: The capacity of plants is limited. For this reason, the organizer reserves the right to refuse the application for the excess capacity of the stadium or applications sent after the deadline.